The Sanctuary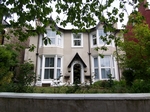 In the midst of life
In the heart of town
An Oasis of peace
A place of retreat, counselling or just to take a break
Hazel has a diploma in therapeutic counselling, M BACP, M ACC (Acredited), NNEB, Dip HE, HPSEB, D32/33 NVQ Trainer/Assessor.
Judith is an RGN, Certified midwife, District Nurse certificate and ENB Care of the dying and their families, Diploma in therapeutic counselling M BACP, M ACC.
We are two committed Christians who have been led by God to open a Christian retreat & counselling centre.
Hazel has experience working as a counsellor for adults & children in a variety of settings, including a child and adult hospice
Judith has worked for the NHS for many years with a wide experience of community work. She also works as a counsellor.